Superman Set Pics! (From Superman's Point of View)
Great Scott! Some
pictures
of the set of the next Superman Movie have surfaced online! An they look pretty interesting (
and loyal to the original
).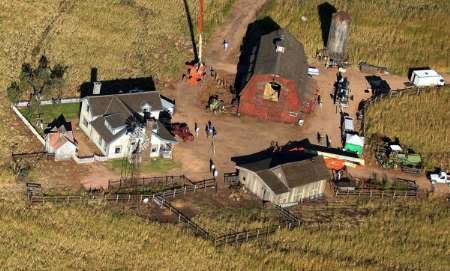 We all know that a new
Superman
movie is in the works and is scheduled for release next year. Production has been pretty tight in releasing information about the movie (
but when has that stopped internet geeks from digging
) but we know this much, It is going to be directed by
The Usual Suspects
and
X Men
director
Brian Singer
and will have relative unknown soap opera actor by the name of
Brandon Routh
as the Man of Steel. If you ask me, he's a pretty good choice, considering that
Chrisopher Reeve
was an unknown when he was cast as Superman and that Routh really, really looks like Reeve. If he can act and emulate the powerful presence of the Man of Steel and the geeky charm of alter ego Clark Kent remains to be seen though. Rumors concerning co stars also surfaced in the likes of
Kate Bosworth
(
Blue Crush
) and newcomer
Mishca Barton
(
The OC
) as Lois Lane and
Topher Grace
(
That 70's Show
) as Jimmy Olsen. My favorite part of this whole deal is the confirmation of my favorite actor of all time,
Kevin Spacey
as Lex Luthor. Now, how cool is that?
Here are some more pics pf the comet landing in Smallville!
Picture 2
Picture 3
Props to
Twitch