Movie Review: "Kung Fu Hustle" (2005)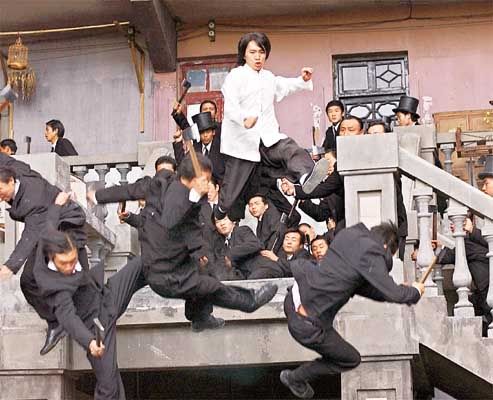 Getting rid of writer's block is just about as fun as pulling out a nail with your teeth so please bear with me. Last Thursday, I was with friends from the office watching
Kung Fu Hustle
. Aside from the usual banter and horseplay we got to Glorietta 4 in good shape and in good spirits. Apparently alot of people were in the cinemas as well, lining up to watch
Oceans 12
. I was beginning to think we should have bought tickets for the
Steven Sodebergh
follow up.
Good thing we didn't change our minds.
Steven Chow
is a genius. From
God of Cookery
and his last kung-fu laugh trip,
Shaolin Soccer
,
Chow
has proven to be a force to be reckoned with in asian cinema. With the greatest Hong Cong and chinese talents moving westward for more profitable opportunities.
Chow
has maintained his Hong Kong production outfit and has come up with the best post wirefu/wushu kung fu comedies in recnt years. His usage of CGI rivals those of the best Hollywood productions, and of course, when it comes to kung fu choreography, nobody beats the home of kung fu.
Kung Fu Hustle
is the kind of movie , I believe,
Stephen Chow
wanted to make and pulled off the way he wanted it. The comedic timing is perfect.
The movies have a lot ofmoments. Moments of pure high kicking, bo staff smacking and blade throwing action, there are moments of pure stupid shallow and tasteless slapstick(
in a good way
) comedy. There are moments of witty verbal comedy. There are moments of chinese mythical coolness. There are moments of sappy melodrama. and most noticebly, moments of cinematic homages to classic flicks such as the
The Shining
,
The Matrix
and the
Looney Tunes
cartoons.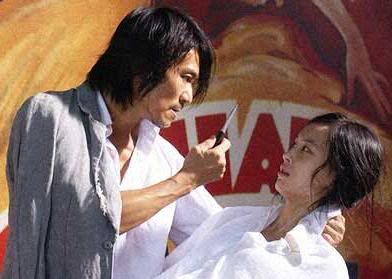 All in all,
Kung Fu Hustle
is a woven myriad of martial arts sillines lovingly bonded and fused by a control freak of a film maker (
Chow
also produces and stars as the lead
) with a nice script. A great time at the movies is guaranteed. Make sure you take friends with you to the theaters to get the full effect of the laughs.
Better bring some extra pants, too!
Rocketboy's Rating
: **** (4 out of 5)