Nicolas Cage in OldBoy?
Ok, I never saw this coming.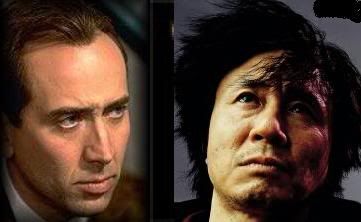 I have been posting in
Pinoy Exchange
recently about the new
Oldboy
remake. People seem to not bew interested in the new project by
Universal
(
well, at least the very few Filipinos who have seen the original, anyway
) se to be released in 2006, so the thread died a natural death. A new development has come up recently in the form of
Nicholas Cage
(
Raising Arizona, Leaving Las Vegas and a gazillion crappy movies
) actively campaigning for the lead role that was masterfully played by
Choi Min Shik
. Obviously they're gonna have to change the name from
Oh DaeSu
to something a little more western like
Donald Prescott
or
John Poindexter
(
I'm kidding people, sheeeesh
).
With respect to
Nic Cage
(
yeah, we're pretty close, Nick and I
) I think someone more in the lines of
Benicio Del Toro
would be more suited for
OldBoy
, and
Johhny Depp
as the antagonist. Of course, a lot of you who have seen
OldBoy
like myself probably think that it is near impossibe to replicate a story so dark and mind boggling to fit the taste of a broader ( read; '
shallow
') audience that it should just be treated as its own thing and just be labeled as 'inspired by' or 'based upon' the original.
Why remake OldBoy? Answer;
"Ka-ching!!!!"
But just like
Dave Davis
of
CHUD.com
(
where this chunk of news came from
) implied, Americans DO deserve a crappy remake.
Which reminds me, my copy of OldBoy is starting to skip. I need a fresh one. Anyone who is willing to sell me theirs is more than welcome...
Props to
Twitch
.