Behold!! Nacho Libre!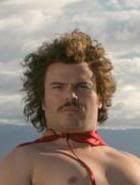 Jack Black
is one of my favorite comedians EVARRRR.
Jared Hess
is the director of the most influential indie film of 2004...
Napoleon Dynamite
, also one of my favorite movies. It is but natural for me to anticipate the latest collaboration of these two oddballs in another oddball indie comedy.
I dont know what the title of the movie is yet. but I know
JB
's name in it will be
Nacho Libre
! Mexican Super-Wrestler.
Words elude me where Jack's
gut
begins.
Propsto
AintItCool
Props to
Twitch
.