Movie Review: "Date Movie" (2006)
I thought, with all the new talent, new editing techniques and preview audiences that there was no chance that this movie could be THAT bad. I never realized how unbelievebly crappy
Date Movie
was until i got to see it myself.
Julia Jones (
Alyson Hannigan
) is fat. She gets help from a midget version of Hitch to get her to woo the man of her dreams.....heck, this doesnt even deserve a synopsis. The jokes were ill timed and stale. The actors weren't even funny.
Don't get me wrong, I love campy parody movies. I love the Airplane! and Naked Gun movies (
the
Scary Movie
series....not so much
), I just throught that this would be at least sub-par to what theese movies were like. But you know what ...I was wrong.
Do yourself a favor, go get your 80 bucks somewhere else. If you happen to catch yourself in the theater seat watching
Adam Campbell
do his
Meg Ryan
impression at around 5:30pm (
like I unfortunately did
), get out of the theater, go straight home, becaouse you might miss the first few songs in
American Idol
.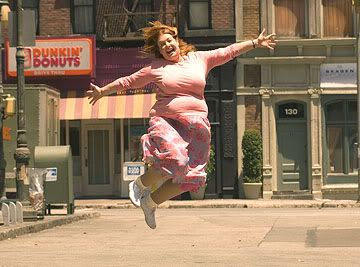 Rocketboy's Rating
: * (1 out of 5 stars)
I couldnt give it less than 1.