Natalie Portman Interviews Zhang Ziyi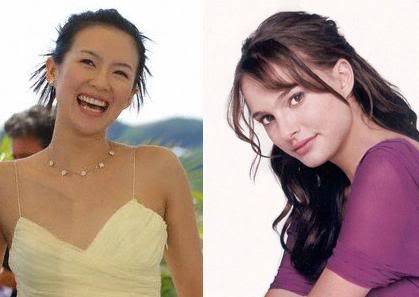 Well, whaddaya know. They finally meet.
Turns out that my Kung Fu Geisha met up with my Jewish Princess in an interview for
Interview Magazine
(downloaded from
helloziyi.com
). They covered a wide range of topics from starting in China, working with
Zhang Yimou
,
Rob Marshall
and other directors and what she likes to do with her spare time. Its a good thing that the issue of her love affair with the
Rocketboy
never surfaced during the conversation or I would have gotten the wrath and fury of both the Shaolin Temple monks and an army of Rabbis combined on my sorry little butt.
Well, my love for both
Natalie
and
Z
remains unfazed and unblemished, and nobody has to know about my little secret.
NP: I understand you're learning English.
ZZ: Yeah, I go to school for five hours a day...
NP: Do you have a favorite word?
ZZ: The swear words!
(both laugh)
Check the interview here:
Page 1
and
Page 2
Props to
Yan Wang
of the
KFCC
forums.