Crazy,Crazy Hollywood.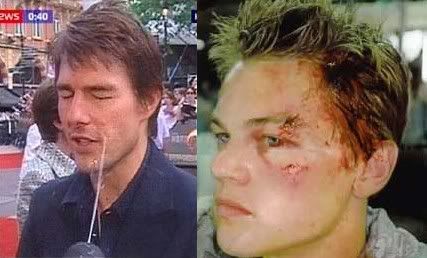 While I know you are all sick, sick, SICK of hearing about celebrities and their shenanigans...
Can you imagine what the stars have to put up with?
Tom Cruise
gets squirted in the face with water from a fake mic at the London premiere of his latest summer movie
War of the Worlds
by a prank TV crew.Surprised and offended (
as anyone would be in the situation
), he chastises the crew and as they were trying to leave the scene, Tom grabs one of them in the arm and says "
Don't run away. That's incredibly rude, I'm here giving you an interview...and you do something nasty..Your'e a jerk
". The guys get arrested but were released the same day. Tom went on with the interviews and signed autographs.
Leo DiCaprio
on the other hand gets a bottle bashed on his cranium and gets 12 stitches. He doesn't press charges on the lady who did it and goes back to the set of
The Departed
the next day. Gosh, it's so hard to be a star these days.
A little personal observation: If you have seen
The Beach
,If you remember the climactic scene in the hut with the farmers, doesn't Leo's gash look eerily like the one he got when he got his head bashed with a gun by the Thai farmer?
Props to
defamer.com
for the pics and
themovieblog
for some info.