Preview: "The 40 Year Old Virgin"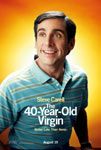 Steve Carell
is fast becoming one of my favorite comedians. This hilariously odd comic first got our attention in
Bruce Almighty
as Evan Baxter ('
Baxtabber
'), the ambitious co-anchor who gets publicly humiliated when Bruce 'controls' his speech and 'movements' live on air. That scene almost made me wet my pants (
almost, okay
). I was also able to catch him on a recent episode of
Conan O'Brien
where he did a few sketches that just made the audience roll with laughter.Carell is next slated to become the lead to the 2006 update of
Get Smart
. He is also in the american version of the british comedy,
The Office
. I just saw the trailer of his latest movie,
The 40 Year Old Virgin
. Man I cant get enough of this guy! Just check out the photo. Don't tell me it didn't even force a snicker out of you.
Here's the
trailer
. Props to the ever reliable
movieblog.com