Megatron, A Tank?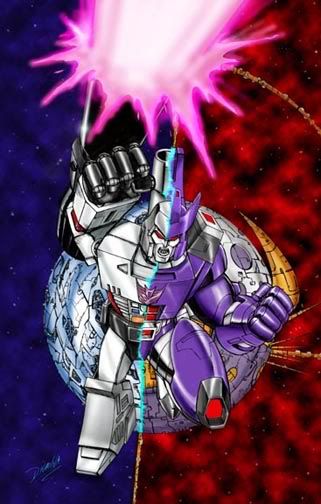 As you all well know,
The Transformers
project (
with Michael Bay at the helm
) is underway and the writers are taking extra precautions on getting the story right. Their job is basically two-fold. 1. Getting the approval of the core fanbase (
that's us
) 2. Not alienating the rest of the human race (
that's you
). he latest development came as sort of a shocker to us rabid eagle eyed fan boys (
well, it's more of a WTF?
) When asked whether Megatron will retain its character in the original cartoon as the Decepticon leader transforming in to a shrinking hand gun, this is what they had to say...

I don't know how we can do it without making Megatron a tank...that's probably how where we're going to end up.
A tank? Where on earth did they come up with that? First off, there already is a Transformer that turns into a tank (
forgot it's name)
and secondly, the dillemma of him having to shrink to fit into a Decepticon's hand was resolved decades ago, they turned him into Galvatron, who turns into a bad-ass cannon. They don't necessarily have to turn him into Galvatron straight up, its just that turning him into a tank just does not feel right. Am I right?
Props to
Egotastic
and
themovieblog
for the link.