Krappy Guitars!
Found this surfing the 'net today.
Krappy Guitars
, your quality source of fine handcrafted two string guitars and basses.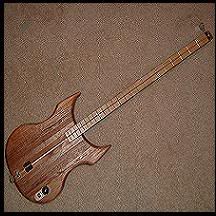 "Our instruments are built for frugal people
who aren't very concerned with regard to
quality, construction, materials, or safety.

The instruments are crafted from whatever
we find suitable. Pedigree of wood is not
a priority for us. We might get it from
a local hardware store, or use some old
shipping crates, or skids. Who knows??!!

If you are intrigued enough to purchase, we will provide you with a complete history
for your instrument. The history might be akin to this:

Wood: leftover 2x4 from a construction site.
Strings: used about 3 years ago on an old guitar.
Pickups: some buncha crap we snagged from some guy.
Electronics: whatever we can scrounge up!"
Sounds good to me. Where do I sign?
Props to
attu
.