Movie Review: "Santa Santita" (2004)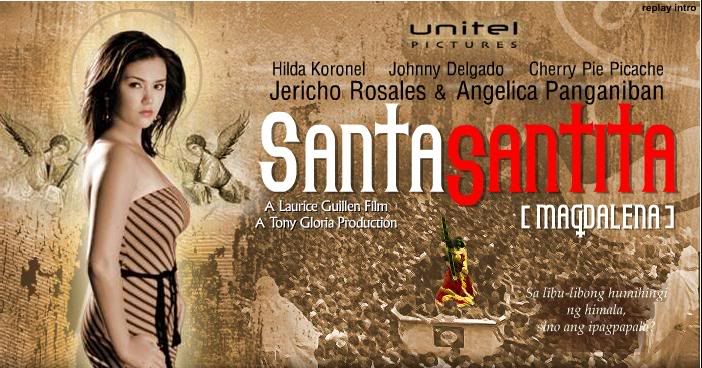 "Madaling mambola, mahirap magdasal"
- Malen, "Santa Santita"(2004)
Faith is a very funny subject to talk about in the Philippines. Faith is manifested in so many mundane and quirky ways that faith itself becomes a marketable commodity. One place that exhibits this uniquely Filipino behavior is the merchant's capital of the Philippines—
Quiapo
, where everything is for sale, even faith. This is the setting of
Laurice Guillen
's "
Santa Santita
".
Expectations are high for
Unitel Pictures
' follow up to the critical and commercial hit "
Crying Ladies
". It is also surprising that they chose a project that is not backed by a major bankable star.
Angelica Panganiban
, who plays the movie's main character Malen, is, not yet an established star. One would remember her as the feisty QT from the daytime telenovela "
Mangarap Ka
" but other than that, she's a staple for obscure roles for teenybopper shows and cheap commercials. One would often refer to one of the greatest Filipino films ever made, "
Himala
" by
Ishmael Bernal
when referencing this movie. Although virtually in the same vein, "
Santa
" carries it's own with a more modern take on an age old topic of religious hypocrisy and personal unworthiness.
The story revolves around Malen (Angelica Panganiban), a young daughter of a Quiapo church devotee (Hilda Coronel) who asks for donations from people asking her to pray for them. Malen's rebellious nature is a large source of distress for her mother, which escalates when Malen meets Mike (Jericho Rosales) a drifter who drives his own car-for-hire and earns through other 'services' as well. Time comes when Malen needs to replace her mother at Quiapo church in selling prayers. Malen, gradually realizes that all of her prayers for those asking for them, are being answered. People then flock toward her and ask her to pray for them and becomes a perrenial 'Santa'.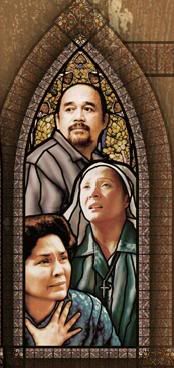 One of the more notable performances in the movie is Johnny Delgado as the recuperating priest conflicted by the worldliness of his alcoholism and the eminence of his calling. Delgado balances both the dignity and disgrace of a recuperating priest with great ease being the seasoned veteran actor that he is. His 'drunk uncle' persona makes him perfect for a role one would respect and doubt at the same time. One would also notice that he also played a priest in "Crying Ladies".
Great movie! I walked out of the theater very satisfied. Here's why:

From the baroque-mural-inspired opening credits I could tell that Filipino cinema is at a turning point. Cinemadom and the powers that be are finally realizing that Filipinos are smart enough to sit through a movie with lots of talk and little starpower without having to throw in breasts and sex.

For once we are to be a witness to the development of a movie actress the way she should be developed. Through the extraordinary opportunity of a groundbreaking role, not through veejaying and being grilled in the spotlight by bald bespectacled talentless freaks of nature.

This may be the best sound engineered movie I have ever experienced. I sat at the balcony to experience the full effects of the speakers. During the dioalogue between the nun (Cherry Pie Picache) and Malen during a healing session, you could hear the chanting prayers of the devotees in a different track in the theater's back speakers. I was like "holy crap, is there someone doing a novena in the projector room?". This made the scene even more eerie and unsettling. I would normally ignore this if it were a foreign film, I guess I'm just excited by the possibilities of this development on future Filipino films.
Finally, although there were a few 'dead spots' in the movie, the continuity and rising action of the story was pretty consistent. I was actually waiting for the disappointment of the story falling flat on its face some time during the middle up to the end of the movie, as I have experienced in almost ALL recent Filipino movies. I was pleasantly surprised that the story held it's own to the end with no sickening melodramatic climax.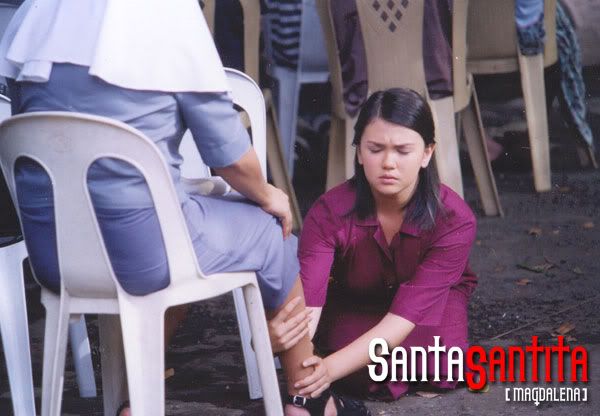 From a standpoint of national pride, I love this film. How this is going to fare globally, I don't know. I have definitely seen Hollywood and other international films which have garnered acclaim and recognition which are more inferior than this in every aspect, that's for sure. We just need to get recognized. We have to bring back the days of
"Jaguar"
and
"Insiang"
, when Our directors were actually considered worthy for a spot in the
Cannes Grand Jury
. I hope we're on our way.
Rocketboy's Rating
: *** (3 out of 5)