Mark Ryden Artwork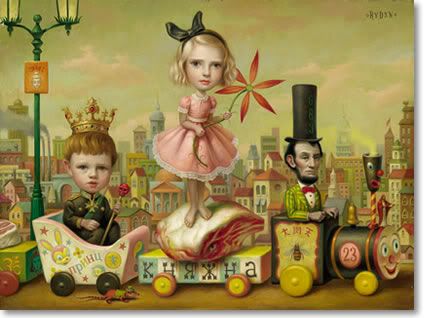 Creepy, cute, nostalgic, sickening
. These feelings run and creep through you like a centipede through buttercake when looking at the most provocatively interesting paintings of
Mark Ryden
.
Born nad raised in Oregon bur grew up in Southern California. Ryden comes from a very artistic family of circus freaks!!! Nah, just kidding. He's pretty normal. But when looking at his paintings, one never ceases to ponder whether this prodigy is one step closer to being a salad short of a picnic basket. I can imagine him sitting in his room one lazy Saturday afternoon watching "
Barney and friends
" on DVD while polishing and oiling his .16 gauge shotgun. Of course he's wearing makeup and red lingerie while he's doing all this.
But seriously, his works kinda remind me of old
Smashing Pumpkins
album inlay art and the
Stone Temple Pilots
"Sour Girl" video. He has also had clients ranging from
Ringo Starr
to
Leo DiCaprio
to
Stephen King
.