Movie Review: "Sideways" (2005)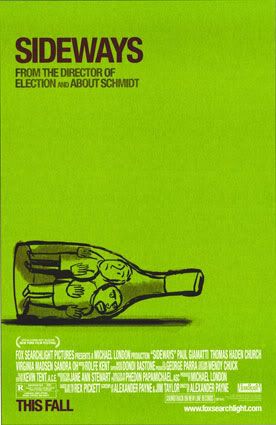 Very few directors can handle consistency.
Alexander Payne
has been very consistent so far. His previous films
Election
and
About Schmidt
are all critical favorites and the new Oscar nominated
Sideways
is no different.
Set in both Southern and Northern California, the movie focuses on two best friends Miles and Jack and their unforgettable week of wine, women and angry golfers. Miles is the methodical neurotic and negative failed writer, played masterfully by
Paul Giammati
, who is coming to terms with what he wants to do with the rest of his life after three failed attempts to publish a novel while Jack, played by the goofy
Thomas Haden Church
, is the happy-go-lucky has been actor who doesn't really know what 'commitment' means. Bothe provide the yin and yang element in the movie whilst sublty adapting each other's characteristics in various points.
While vacationing in northern Cali for Jack's last week as a swinging single they meet two cool chicks willing to party with them. Maya (
Virginia Madsen
) who has had a hidden interest in Miles for a long time and Stephanie (
Sandra Oh
) who hit it off with the engaged Jack on the first day they met.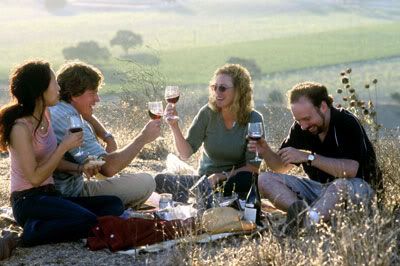 The foursome then enjoy a full week of wine-related activities and frolicking like kids. Miles and Maya's relationship is very sublte and often frustrating in the viewpoint of an observer. This is, probably the best part of the movie for me.
If you are into wine and the entire vineyard culture, you will definitely get giggles from some inside jokes and added tips on how to discern different wine types and dates and all that stuff that I really didn't care about. What I did care about is the excellent writing job Payne did to adapt this
Rex Pickett
novel.
Like
Eternal Sunshine..
Payne gave the movie a sort of 70's filtered feel. I got the same fuzzies from some key scenes here from that of Eternal... with the music and all. This equates with
Million Dollar Baby
as one of the more superior nominated movies of the year compared to the overrated
Aviator
and inferior
Ray
(well, I still have to give
Jamie Foxx
credit).
This is definitely worth your buck. This is showing currently at all major cinemas along with Constantine and Ray. I heard
Constantine
was mediocre at best, and about
Ray
, just get the DVD.
In the meantime, I need to take a big whiff out of my apple juice and shake it for consistency and clarity....ah what the heck!!! (chugs it down like Gatorade).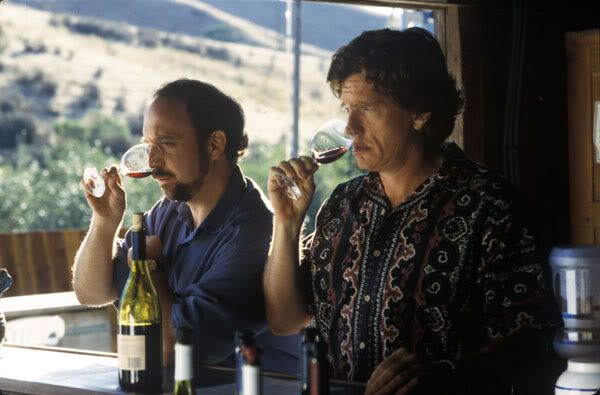 Rocketboy's Rating: **** (4 out of 5)