"2001: A Space Oddysey" Explained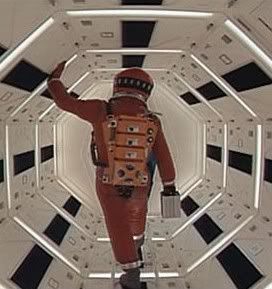 Let me just say that I think that despite all the comments about
Stanley Kubrick
having the tendnecy to remake movies using his own vision independent of the source material, him being obsessive compulsive and just difficult to work with, I still think he was one of the best directors of all time.
2001: A Space Oddysey
is probably my favorite movie of all time, and It also doesn't mean I understand it completely. The mystery and speculation surrounding this enigmatic masterpiece is legendary. Plus, it has the best special effects you can ever see in any film (
considering the fact that it was first shown in 1968
).
I came across a
Flash site
that attempts to explain the underlying interpretations of this confusing but beautiful film.
Stanley Kubrick
does not have the habit of explaining his works, which I believe is a very healthy practice. He allows his audience to interpret the movie as they see fit. I found the site to be very informative and very beneficial to my overall appreciation to the film. I even sent them an email with my opinions. To check ou this flash site click
here
to go to
kubrick20001.com
.
I advise you to see the movie first, that is if you haven't seen it yet.
Props to
themovieblog.com