Video Games Don't Really Make Us Violent?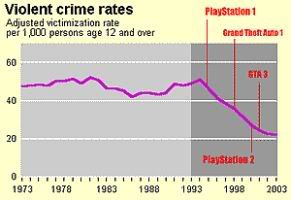 Do video games really make kids more violent? A lot of politicians and behavioral scientists say yes. However some researchers say say that there is no such relation. Some studies show that there are no real connections between violent video games and violent crime. In fact, the study shows a lowered crime trend since 1993 from offenders 12 years old and above. You can check the rest of the article
here
I was very much into gaming when I was a preteen. You can say that I was one of those kids who skip dinner just to beat Super Macho Man in
Mike Tyson's "Punch Out"
(
yes, I'm that pathetic. And yes, I'm that old
). However I never had the urge to pummel someone in the face whenever I was slighted or offended. Neither did anyone else I knew. Truth be told, the people I knew who were violent and aggressive rarely, if ever, touched a videogame console.
Your thoughts?
Props to
KFCCinema