My Special Valentine Girls Part 1
Today is a special day because today is when I kick off my special valentine girls entries.
Aside from the fact that I'm a lonely fanboy two steps awayfrom being a pervert, I have been a great admirer of the female aesthetic. I have listed down a number of women whom I have found to be the mos beautiful in the world. And believe me, I've been around the world (
wide web
) and I have seen what the world can offer,a nd these girls are what its all about.
I have also posted a few pics along with the ones in the site. All of thema are clean. there are a lot of mothers and close relatives monitoring this site, along with special agents of the FBI (I think i'm being tapped. Shhhh. Don't make a noise)
Anyways, from the dark depths of my basement office in the heart of Manila (
or a Makati callcenter
) here come my favorite girls...ever.
Click on their pictures to view their sites.
Piper Perabo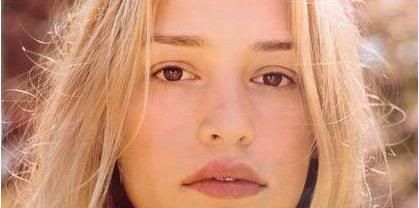 What I find very irresistably appealing about Piper is that she comes across as a complete nerd. Which I like very very much. Her transition from innocent, bashful country girl to sexy, outgoing bartender in
Coyote Ugly
kinda shows you the extremes of her personality.
More pics
here
,
here
, and
here
Hillary Swank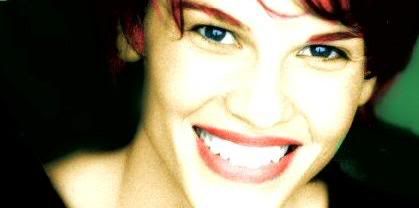 I'm fascinated by this lady because is so good at shunning her Hollywood image. A simple girl with a dream come true and one of the hardest bodies I've seen on such a fine lady.
She is more well known as the woman who disguised herself as a man in
Boys Don't Cry
and as the female boxer with a dream in
Million Dollar Baby
The Oscar best actress hasn't come out with anything so far this year, but you can be sure she'll be part of something special again.
What gave her primo points in my book was the picture of her gorging down a burger with the Oscar sitting right beside her.
More pics
here
,
here
, and her munching on the burger
here
.
Julia Stiles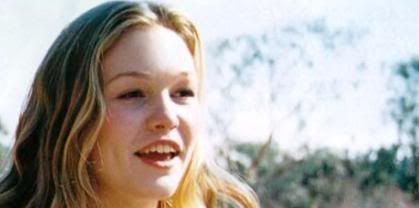 Julia is the thinking man's poster girl. She's that girl you crave talking to out after hanging out with a lot of girls who like to ask you how their hair looks and whether their nails look better painted in mauve or burgundy.
Doesnt every guy want a girl who can keep up with sports talk, hike in the mountains and still have the charm for you to want to snuggle up with her in a sleeping bag? Where are all the Julia Stiles's in the world?
More pics
here
,
here
and
here
.
Jennifer Love Hewitt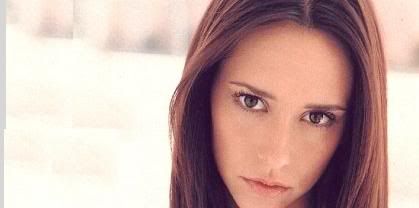 Previously labeled as one of the two hottest pices of a** about five years ago (
Liz Hurley was the other one
) she has laid low a little bit since the early 2000's.
What's really appealing about Jenniffer is her geekiness. She's got the body of a cheerleader and the mind of that little dorky girl with glasses, knee length socks and a knitted sweater.
She is most popular as one of the sisters in
Party Of Five
and has been in many forgettable movies. I particularly liked her more when she was filling in her blouses a little better rather than her current anorexic look. But hey...still hot.
More pics
here
,
here
, and
here
.