Movie Review: "Just Friends" (2005)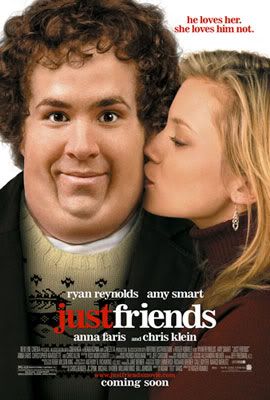 Just Friends
is funny. Its one of those comedies where you expect it to be just moderately funny and full of mushy romantic dialogue and cheese pop culture references. But wait,
Ryan Reynolds
is in it!
I have been looking out for this guy since his
Two Guys, A Girl And A Pizza Place
days. This guy is wicked funny. Then he dissapeared for a while and just comes up every now and then. You can say he's like a pet hermit crab that somehow gets lost in your house but ends up in one of your Nikes. Now he's out with a vengeance with a string of movies ranging from
Blade 3
,
The Amityville Horror
, to last year's gross-out comedy
Waiting
.
Chris Brander(
Ryan Reynolds
) is a fat high school cheerleader who is best-friends with the schools hottest chick Jamie Palamino (
Amy Smart
) back in the class of '95. Although he spends enormous amounts of time with Jamie, he is doomes to be within the "friend zone" whare he is no longer an 'date or mate' option.
Today Chris is a big time record executive in LA and Jamie is still back in their old Jersey town. They meet accidentally in a bar back in Jersey whenthe plane Chris and his boss's new starlet Samantha james (
Anna Faris
) get stranded on the way to somwhere (
i forgot...ok
?). Chris then rekindles the feelings he had for jamie and arranges to stay longer. Samantha is forced to stay in Jersey and goes into different crazy situations to intentionally (and inintentionally) embarass Chris and keep her away from Jamie , who is being wooed by former high school geek turned Jersey hunk Dusty (
Chris Klein
).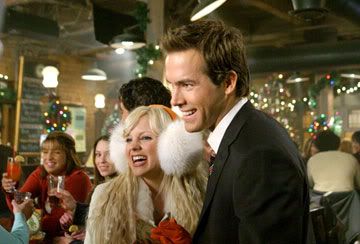 What makes this movie work is the constant jackassery courtesy of Mr. Reynolds himself. Faris is teriffic in her usual psychotic self, only much more drug induced than her
Scary Movie
character. Reynold's quips and snyde sarcastic side comments are gold and compare to a more antiseptic version of the maestro of jackassery,
Vince Vaughan
.
The laugh per second ratio is very high and is comparable to
Wedding Crashers
and The 40 Year Old Virgin. The 'friend zone' stinks, but this movie doesn't. It may be a simple romcom with very poor marketing, but it will be worth your P80.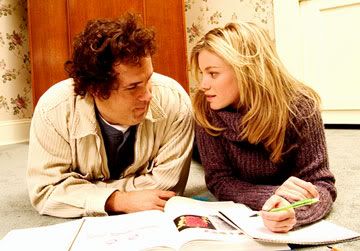 Rocketboy's Rating
; **** (4 out of 5 stars)