My Very Late Oscar Entry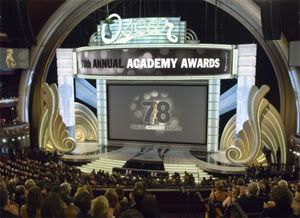 Better do this while the boss is out...
Well we all saw the
Oscars
two days ago. Everything was just same old, same old just like last year except for the almost unexpected win of Paul Haggis's
Crash
as Best Picture and
36 Mafia
's "
It's Hard Out Here For A Pimp
" as Best Song, easily the night's
WTF?
moment.
Jon Stewart
(
who did an 'ok' job . But I still prefer Billy Crystal anytime
) put it very well when he said "I believe the tally is,
Martin Scorsese
=0,
36 Mafia
= 1".
It was cool to see
George Clooney
win. His speech which turned into his obituary was quite the show starter, its sad that people didn't catch up after him...
I would have loved to see
Hayao Miyazaki
's "
Howl's Moving Castle
" win Best Animated Feature, but meh, you cant win everything. It was cool to see
March Of The Penguins
win though.
In the meantime check out his weird pic of Brokeback Mountain Director and Oscar winner
Ang Lee
with presentor
Uma Thurman
and some drunk psycho in the background...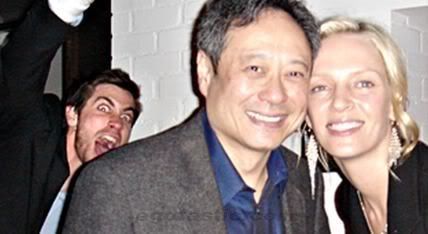 Props to
Egotastic
.