Movie Review: The Departed (2006)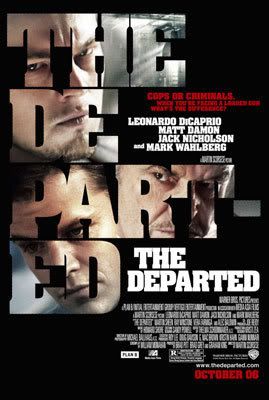 Martin Scorsese
is a force in the film world that cannot be denied. Almost every young filmmaker out there has been influenced by his work. He is a definite hollywood legend and The Departed is proof of this.
He has received a lot of criticism for choosing to adapt a very successful Hong Kong cop thriller
Infernal Affairs
to be his next project with
Leonardo Di Caprio
. Perhaps he's run out of ideas, they say. That may be true. But as I saw the movie, I began to understand why he chose this route rather than use an original story. It was probably the mafia story each hollywood filmmaker wanted to make, the chinamen just beat them to the punch.
Im just going to throw in a few bulletpoints to make it easier on both of us.
> It has
Scorsese
's trademark fast scene sequences. You'll see what I mean.
> The movie is surprisingly funny. A lot of funny one liners courtesy of
Jack Nicholson
,
Alec Baldwin
and
Mark Wahlber
g (yes, he was actually funny in this movie)
> The soundtrack is to die for. I was walking to the office today with the song Comfotably Numb in my head.
> I expected more from
Matt Damon
.
Vera Farmiga
was a miscast.
> Leo is the man. He outshone Damon for sure.
> A lot of violence, but not as violent as
Casino
or
Goodfellas
, some of Scorsese's trademark movies. The story is the hero here.
> In terms of loyalty to the original. Very loyal. More loyal than I expected. I was expecting Scorsese to make it his own. Surprisingly he did stay loyal to the original while making it his own. I remember some key scenes such as the hand cast scene and the climax as very close to
Andrew Lau
's
Infernal Affairs
.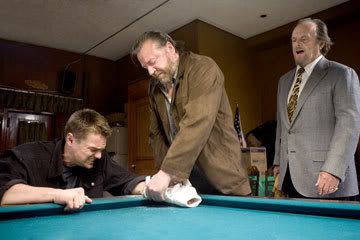 >
Some trivia
. In Sullivan's (
Matt Damon
) new apartment, when his girlfriend (
Vera Farmiga
) movies in with her boxes of stuff, you can clearly see what he was watching in the widescreen TV on the background...
Takashi Miike
's shocker
Audition
!
All in all, a great time at the movies and a great time for cynics. I for one am a very happy camper. Go see it.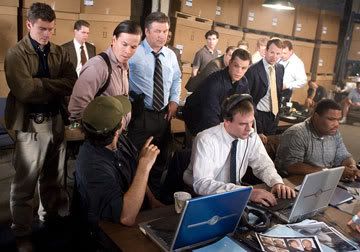 Rocketboy's Rating
: ***** (5 out of 5)