AOL's 111 Wussiest Songs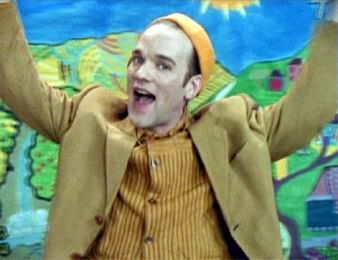 I just got this off of a blog called
stereogum.com
I got a laugh at the entries and I do agree with most of them.
Although I do love
R. E. M.
's
Shiny Happy People
, it is reported that recording the song (and most likely shooting the video for it) wasn't one of their proudest moments.
Personally, I would have put
James Blunt
's
Your Beautiful
on the top spot. The loser's personal anthem. I 'still don't get why chicks dig this song so much. Touching and sensitive
daw
. Really? All I hear is a pathetic whine of how some guy isn't worthy to be with the prettiest girl at work/school/wherever you are. And that he is only resined to stare at her from afar. Come to think of it, it could be the stalker's anthem too.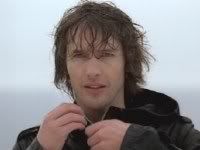 Anyway here it is. You can click on the list for the complete 111 songs. I also highlighted some noteable songs.

111. 'Do I Make You Proud' - Taylor Hicks (2006)
110. 'Seasons in the Sun' - Terry Jacks (1974)
109. 'Kiss Me' - Sixpence None the Richer (1999)
108. 'Wonderful Tonight' - Eric Clapton (1977)......

59. 'Someone Saved My Life Tonight' (1975)
58. 'Bad Day' - Daniel Powter (2005)
57. 'She Believes In Me' - Kenny Rogers (1979)
56. 'Vindicated' - Dashboard Confessional (2004)
55. '(Everything I Do) I Do It for You' - Bryan Adams (1991)
54. 'Leaving on a Jet Plane' - Peter Paul and Mary (1969)
53. '2 Become 1' - Spice Girls (1996)
52. 'How Deep Is Your Love' - Bee Gees (1977)
51. 'Tutti Frutti' - Pat Boone (1956)......


25. 'Superman (It's Not Easy)' - Five for Fighting (2001)
24. 'All Outta Love' - Air Supply (1980)
23. 'Your Body Is a Wonderland' - John Mayer (2001)
22. 'You Light Up My Life' - Debbie Boone (1997)
21. 'True' - Spandau Ballet (1983)
20. 'Such Great Heights' - Iron and Wine (2003)
19. 'Right Here Waiting' - Richard Marx (1989)
18. 'I Believe I Can Fly' - R. Kelly (1996)
17. 'Close To You' - Carpenters (1970)
16. 'All By Myself' - Eric Carmen (1976)
15. 'Cry' - Johnny Ray (1951)
14. 'Dear Mama' - Tupac (1995)
13. 'You Don't Bring Me Flowers' - Neil Diamond & Barbra Streisand (1978)
12. 'I Want It That Way' - Backstreet Boys (1999)
11. 'Hello' - Lionel Richie (1984)
10. 'Fix You' - Coldplay (2005)
9. 'If' - Bread (1971)
8. 'Do You Really Want to Hurt Me' - Culture Club (1983)
7. 'What's Left of Me' - Nick Lachey (2006)
6. 'Longer' - Dan Fogelberg (1979)
5. 'Every Rose Has Its Thorn' - Poison (1988)
4. 'You're Beautiful' - James Blunt (2005)
3. 'Ben' - Michael Jackson (1972)
2. 'Sometimes When We Touch' - Dan Hill (1997) [I think they mean 1977.]
1. 'Shiny Happy People' - R.E.M. (1991)