Movie Review: "Click" (2006)
The
Adam Sandler
fan in me is just screaming to do a review for his latest movie
Click
, 'cuz it was just so nice. So Im giving in to the voices in my head and doing this one really quick.
Michael Newman (
Adam Sandler
) is a busy architect and building planner trying to mix both a professional life of kising up to his boss Mr. Ammer (
David Hasselhoff
) and a life with his wife Donna (
Kate Beckinsale
) and kids.
Complicated as his life already is, he tries to find some order by going to Bed, Bath and Beyond to find a universal remote control for all his household appliances. He stumbles upon one provided by Morty (
Christopher Walken
), a mysterious mad proffessior type working in the store's backrooms. The remote seems handy at first, until Mike discovers that can control not only the electrical appliances, but virtually everything around him including his nagging wife, his boring appointments and his dog's bowel movements. he soon discovers a new sense of freedom in being able to control his time and pause whenever things get rough or infuriating. At one point he pauses his boss in the middle of a statement and hits him in the face 4 times, unpauses him leaving him with a big headache all of a sudden.
Things start to get really bad when the remote automatically pre-programs his preferrences and just shuttles to the next thing in his life without his permission. He later finds himself shuttling through his life without experiencing it which results to him wanting out. But the remote is non returnable.
Adam Sandler
comedies are shallow and juvenile, and that's just the way we like them. Although it plays between the college humor and heartstring plucking, it does not alienate either poles of its diverse audience. Like
Wedding Crashers
, its a college humor flick with a romantic twist.
Plus, did I mention that
Kate Beckinsale
is uber-hot in this movie. In most of the scenes she wears this pink number with a pair of boxers that is very difficult to forget. I will post a hi-res photo right here. You can take your time...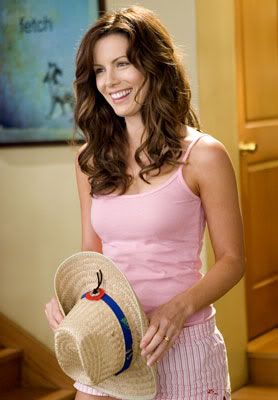 Done? Ok let's move on.
I enjoyed this film. I don't know hat you think about it, but I thought it delivered what it was supposed to deliver and more, unlike Sandler's previous recent movies, this one brings you back to
Billy Madison
,
Happy Gilmore
territory, plus giving you a little
Its A Wonderful Life
.
Rocketboy's Rating
: ***** (5 out of 5)