Gig Review: "Nuno Bettencourt with Near Death Experience Guitar Clinic" (Yupangco Bldg. Makati, June 9 2005 6pm)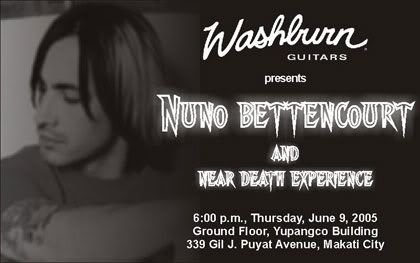 Nuno Bettencourt
is definitely one of the best guitar heroes alive. When I first learned that he was going to Manila for a guitar clinic and promotional tour for
Washburn
for his new
N5
and
N6
series, I immediately signed up. Needless to say, as a guitarist myself, Nuno is a major influence. Anyone who's into rock in the 90's knows
Extreme
, the band that came up with the tremedously overplayed love ballad
More Than Words
. Nuno wrote that song, mmkay?
Anyways, he has since gone solo and has formed his own group named
Population-1
also known as
Near Death Experience
and has been touring around the world and giving guitar clinics everywhere.
I was in line for my reserved seat at 4:00pm. The gig was to begin at around 6. There was a delay in the preparations in the Yupangco music hall as that the speakers seemed to be acting up, therefore delaying the admission of more than 800 eager Nuno fans. So while we were waiting in line to get in, I saw some very familiar faces like
Karl Roy
of Razorback who was standing right behind me in line. There were probably a bunch of new recording artists who are probably famous also that I just didn't really care about. There were sightings of
Mike Villegas
,
Mark Escueta
of RiverMaya and a very close encounter with
Barbie Almabis
, all of which made my day jump up a notch compared with the drab everyday callcenter life.
Finally after almost an hour's delay, we were finally let in to bask in the aircon and observe Nuno's guitar wizardry.
His sense of humor got his filipino audience pegged as he started off by chastising the audience for "being late" and telling them that he waited us them all afternoon. He played one of his originals to begin the show, then proceeded to some of his more popular
Extreme
songs like
He Man Woman Hater
,
Cupid's Dead
, and (Do You Want To)
Play With Me
.
There were two significant highlights in the show. One was his perfect rendering of his slammer acoustic piece
Midnight Express
(
my personal favorite
) and the random selection of a die hard fan to jam with him on stage for
Get The Funk Out
, the lucky dog. The guy was good, in all fairness. As he was being cheered on by the audience, I was sulking in the corner green with envy.
The night was also plagued with technical problems. The right speakers started stalling and caused a delay in many parts of the show. A this point Nuno starts to joke with the audience and poke fun at himself and some of the eccentricities of audience members, such as a guy up in front apparently videotaping him even though there were explicit instructions given before the show not to do so. Nuno's positive attitude despite the technical foibles was a refreshing contrast to
John Myung's
anal attitude and prissy demands during his past clinic. Nuno doesn't like lecturing or giving out lessons. He just wanted to play. The clinic actually turned out to become a full on club gig rather than a guitar seminar, to everyone's delight, musician or non-musician.
What I learned from this clinic? It doesn't matter if you know the terminologies, it doesn't matter if you have great technique. What matters is, when you're in the stage and the audience is listening, you MUST rock!
When pitched the question about what he recommends guitarists to use for guitar gear, he simply replied, "
It's all in here
", raising his left hand and wriggling his fingers.