Essay: "Our Generation"
I was laying in bed sick for two days this week. This means I had almost zero interaction with anyone but my immediate family and my doctor who doesn't even remember me. This led me to do very boring stuff at a very limited pace and time since, well, I was sick and could not move very well.

It was also time for me to catch up on the old DVDs I bought for my mom and dad that I haven't seen yet. I saw the Simon and Garfunkel Live in Central Park Concert DVD on tuesday. I knew that S and G were for the least part, THE Poets of their generation. I didn't realize until then how much of poets these two really were, until I saw them play 10 straight songs. A few weeks ago we also saw a Peter, Paul and Mary DVD. I was also witness to the power and relevance of their songs and how they represented my parents' generation. My mom would often comment on my musical taste saying "our music" was just noise and senseless lyrics. I always dismissed that as a case of the much balleyhooed "generation gap". Upon further inspection... and introspection. I think there may be a chance that mom was actually right. In fact, I believe now, more than before that she was.
Their generation's music was full of heart, inspiration, rebellion and hopes for a better future. Simon and Garfunkel have a song called "
America
" which speaks of one's undying devotion to their motherland despite the deconstruction of it's government and ignorance of it's people. It's a song that believes in itself.
P, P and M
have a song that talks about "
...their nation's children living in fear
". A very accurate prophecy considering the burgeoning culture of fear that's dominating the minds and hearts of the free world. Our generation's songs are full of jaded words written by corporate lyricists or narcotic induced self proclaimed artists . Topics range from how it "
SUCKS TO BE FAMOUS
" or "
how I hate my mom (or myself)
". And if it's not about that, its about "
going to the disco, getting stoned, and/or getting laid
", you know...the important things in life.
There are exceptions, of course (guys like
Josh Groban
and those
Corr
sisters) . Talking about peace and love in this generation will seem corny and "
untrue
", and may be accused as corporately inspired. But why?
Let me show you what I think.
"You're not your job. You're not how much money you have in the bank. You're not the car you drive. You're not the contents of your wallet. You're not your f***ing khakis. You're the all-singing, all-dancing crap of the world."
-Tyler Durden
("
Fight Club
")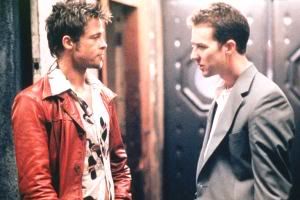 Anyone who has seriosly followed "
Fight Club
" and the writings of
Chuck Palanhiuk
knows when and where in the movie (and book) this quote was stated by Tyler Durden. Whe was he referring to? Sadly, He was referring to us. The
MTV
generation.
My parents were in college during the Vietnam war. They were also very active (
being UP coeds
) in speaking the
Marcos
regime. In a time when there was so much oppression and opposition for what was good and true, they were in the forefront, our folks, our uncles their friends and drinking partners. They had buddes who got killed in rallies, brothers who got shot in the jungles by the "
Charlie
". They loved their songs because to them, they were more than just songs. They were the expression of their most real desires. Freedom. Peace and Love.
What did we have?
"How much can you know about yourself if you've never been in a fight?"

"Our generation has had no Great Depression, no Great War. Our war is a spiritual war. Our depression is our lives"
-
Tyler Durden
("
Fight Club
")
MTV
. That's what we had. We had our silly heads glued to that set all day. The violence that we know is second hand knowledge from
Oliver Stone
and
CounterStike
. The rush of freedom that we felt came from hearing
Mel Gibson
screaming his lungs out. We never had wars of our own to fight. We just saw them on
CNN
.
But why all this angst and frustration? We're free aren't we?
"We're designed to be hunters and we're in a society of shopping. There's nothing to kill anymore, there's nothing to fight, nothing to overcome, nothing to explore. In that social emasculation this 'everyman' is created."
-
Tyler Durden
("
Fight Club
")
We are no different physiologically and psychologically from our predecessors. We're just trapped in the malls and cant get out.

TV has promised us that if we drink
Ginebra
we can get jiggy with
Mau Larazzabal
and that if you use
Ponds
you can be as cute and pretty as
Karel Marquez
.
MTV
has promised us that we can all be rockstars. Now that we're all grown up working 9 to 5 in Ortigas, we realize that we've been had. And now we're pissed.
That's where, in my opinion, the angst is coming from. That's why our songs are so full of anger and hate. The thing is we really don't know what we are angry about. We're just punching into air.
That's why our songs suck.
I think I'm popping in that
Simon and Garfunkel
CD again....