Jet Li Missing in Maldives--Found?
For some movie news eerily related to the latest global tragedy, our favorite Wushu champion/white guy-buttkicker
Jet Li
was reported missing in the weekend because he was vacationing with his family in the Maldives (
talk about being in the wrong place in the wrong time
.) His manager was trying to access him through cellular phone but couldn't contact him.
According to
AintitCool.com
his manager has finally made contact and that they are safe...depending on how you understand the translation of the website release cuz the freakin thing was translated through babelfish!
Lets pray for real confirmation regarding this rumor... We can't afford to lose another asian martial arts hero.
In the meantime his newest action flick
Danny the Dog
(aka.
Unleashed
) will be released in europe early January and will hopefully get a local release before the US theaters open. I've seen the trailer early this month and it DOES look awesome.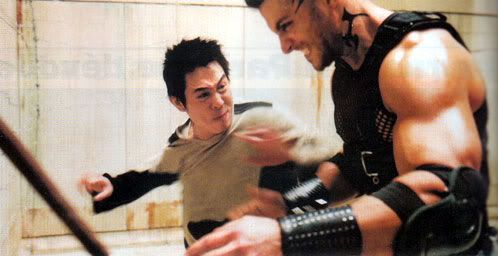 Check out the official site
here
.
Props to
Twitch
for the Jet Li info.