"Sky Blue"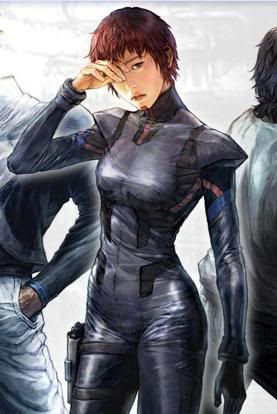 Also known a
Wonderful Days
, this animated masterpiece being considered as the tour-de-force of the long overlooked talents of Korean animators (
in case you haven't known, Animated series like The Simpsons and Futurama have long been utilizing Korean artists. Apparently, a lot of Hollywood's bigwigs think that outsourcing is cool too
!) The combination of cell and 3d animation blends in perfectly in a netherworldy future where pollution is so abundant, it has become a source of energy.
I was blown away when I saw this for the first time late last year. I bought my DVD copy from a comic store in SM North for a whopping P250. I wasn't dissapointed though. The disc is worth owning just for the visuals. Some of the shots are so photorealistic, you would think that they were 'cheating' by using 'real' images.
As for the photo of Jay (the principal character)the Ecoban guard, i just can't stop looking at her. The geek in me just wins over when a pretty face and a perfect body just meld into an artist's perspective. As Jang Hyuk would confidently ask in English, "
Can I have your...'handphone' number
?"