They're Gonna Play Bas-Ket-Brawllll!!!!
While everybody is still talking about the last Pistons Pacers game/rumble. Lemme' link you to the website that gives you more than your daily dose of basket brawl.
Basketbrawl.us
is a website dedicated to the latest basketball fiasco (
and NBA PR nightmare
) that happened in the
Palace
at
Auburn Hills
(
The Detroit Pistons' homecourt
) when Pacers Forward
Ron Artest
"obviously" fouled Pistons Center
Ben Wallace
to the tune of a big whopping smack upside Wallace's afro during a lay up with 45 seconds left to play in the fourth quarter, which resulted in a melee between the two players. Well, you know the rest...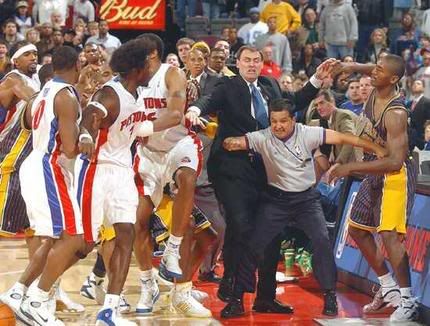 The site also contains
streaming video
of the incident, articles, as well as, SURPRISE!
More Pictures
!!!!
I LOVE THIS GAME!!!