Tom Hanks in Transformers?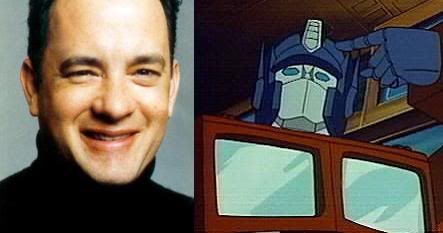 You may not believe this. I didn't when I first heard about it. It seems like the new Steven Speilberg -produced live action treatment of my favorite cartoon series of all time, The Transformers, could have Tom Hanks in it. Tom Hanks, you say? Ok before you go "Galvatron" on this new, surprising development, hear this out:

Tom Hanks' name was brought up for several reasons. One, he is a HUGE Transformers fan/collector. A few years ago on a late night talk show he did his rendition of the Transformers theme song for all to hear. Second, Hanks and Spielberg go way back with several different projects.
Ok. This is reason enough for me. I love
Tom Hanks
. He is one of the best actors that ever lived and is a living legend in his own right. I'm just a little baffled on how he can contribute to a CG animated-futuristic,children's cartoon-based movie (
okay, so there's The Polar Express
).
The Transformers
does not necessarily need a seasoned actor to be effective (
It's going to be a predominantly made up of CG genrerated robots
) Perhaps a role for a character not in the cartoon series. Or
Spike
, the human friend to the Autobots.
Click here for the source link. There's a little link of Tom singing the "Transformers Theme Song" too.
Props to
Twitch