Our Official New York Asian Film Festival Entry is...

I'm sorry, I just have to make an entry about this.
If you are following the Asian Film scene, you probably know that the annual
New York Asian Film Festival
is going on right now. Asian Film afficionados from around the world have found a home in New York, being the melting pot of all cultures in itself, obviously. The
NYAFF
showcases the best of Asian Cinema to the rest of the world, and in turn, gives asian filmmakers the opportunity to show their best work to a global audience.
Here's where it gets interesting.
Countries like South Korea, Japan, and Hong Kong and mainland China have been making great movies for years. It would be obvious that the would have the lion's share of entries at any given year. Countries like Thailand and Singapore have been showing promising movies lately and are slowly gaining recognition for their pursuit of cinematic excellence. In the case of the Philippines, we're not quite there yet (
don't ask me why. It's not like we have a drought of talent, well, finances, maybe, but not talent
) however we make some very notable small movies. Digital cinema has given our film industry a window to showcase what our filmmakers REALLY want to show without the resrictions and modifications of large film producers. So, naturally, we should showcase our local digital films so that we can firmly represent the Philippines and establish that we can cut it with the rest of Asia, right?
South Korea has
Arahan
,
Samaritan Girl
and
Crying Fist.
Japan has
Princess Racoon
and
Vital
. The Philippines has
Gagamboy
. India has
My Brother Nik
-..
GAGAMBOY?????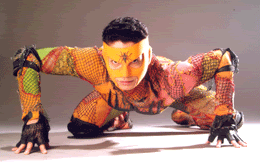 For crying out friggin' loud, there are tons of great fil-independent movies out there, why
GAGAMBOY
, you may ask? That's ok.
THAT'S EXACTLY WHAT I WAS THINKING
.
Here's where it gets really interesting.
Gagamboy
is screening June 17-26 at Anthology Film Archives (
if you happen to be in NYC
) to RAVE REVIEWS! Here are some actual quotes from some reputable film reviewers:
"
A deliberately low-rent Filipino cousin to Spider-Man, GAGAMBOY manages to provide almost as much fun on little more than the burger check for Sam Raimi's Hollywood blockbuster
."
-
Derek Elley, Variety
"
charmingly junky fantasy
"
-
Time Out New York "...a mix of masked mania, screwball comedy and wild action as crazy as any comic book. With neat effects, clever tricks and lovable cast (including the handsome, hilarious young comedic actor Vhong Navarro hamming it up heroically in the title role), GAGAMBOY spins a wacky web of good ol' fashioned fun
!"
-
Rupert Bottenberg, Fantasia Film Festival
"Shot in the pulpy pop colors of cheap Filipino comic books and set in a studio-built ghetto that looks like the set from John Waters'
Desparate Living
"
Erik Matti
must be proud of himself to have his movie (or the set, at least) compared to that of John Waters'.
"The whole point is to let brand new Filippino(
sic
) comic star,
Vhong Navarro
, show off his dead-on comic timing (
he's like a young Stephen Chow
)"
A young Steven Chow , huh?
Definitely this is a pleasant surprise. A little confusing, but pleasant. One may come to think that
Gagamboy
was an unintentional hit with the critics, kinda like young Anakin Skywalker 'accidentally' shooting and destroying the Trade Federation's Star Ship's main reactor that deactivated all the droids fighting in Naboo. On the other hand, It could be an intentional (
and successful
) attempt at 'camp cinema' excellence (
since it WAS compared to John Waters' movies
) disguised as another cheesy Filipino comedy. I have only seen parts of
Gagamboy
and I find Vhong peculiarly funny. I have seen many a good serious Filipino flick, but I have yet to see a satisfying Filipino comedy. Maybe we're just not paying attention to our stuff. What do you think?
You can find the page and the rest of the review
here
.