Preview: "Sympathy for Lady Vengeance"
This probably isn't very significant for a lot of people, but hey, it's my blog...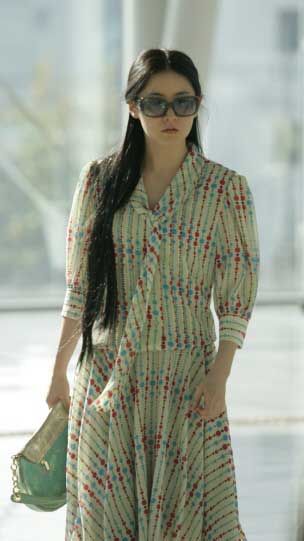 Chan Wook Park's latest installation to his revenge trilogy is in the works as we speak. "Sympathy for Lady Vengeance" is the final chapter to his much acclaimed vengeance series which started with "Sympathy for Mr. Vengeance" and was followed up by Cannes Grand Prix winner "OldBoy" (those of you who visit my blog often know how much I love this movie). Park has been very consistent with the quality of his films. His most recent film was one third of the "Three..Extremes" anthology titled "Cut". Revenge seems to be a very central theme in most of his movies which is probably why "Pulp Fiction" and "Kill Bill" director and homage-monger Quentin Tarantino praised this movie and the director so much during the 2004 Cannes FilmFest.
Here is the first, if not one of the first stills off the movie with "Lady Vengeance" lead Lee Young-ae. She was also the Female Swiss Major in Park's first blockbuster "JSA (Joint Security Area)". Asian film buffs are all over this movie and are literally eating it alive. Not much to judge, but I reckon this will be a classic in the making. Nice glasses, too.
Click here for a larger view.
Props to
Twitch
.