Preview: "Red Eye"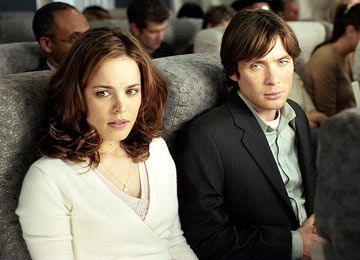 Before I saw
Wedding Crashers
, I saw the trailer to
Red Eye
. I remember the feeling I felt when I saw
Rachel McAdams
onscreen. Then there was
Cillian Murphy
. You would only know him if you saw
28 Days Later
and, more recently,
Batman Begins
. The trailer was a perfect example of a teaser. It starts out looking like a romantic comedy and then changes about 10 seconds before it ends.
"
This is definitely not a horror film; it's a psychological thriller
," according to creator, director and horror legend
Wes Craven
.
The previews look nice, too. Cillian looks nice, and Rachel looks
NIIIIIIIICE
.
Props to
rottentomatoes
.