Some Quick Updates...
Stone Stoned
...

After the suckie
Alexander
, it looks like
Oliver Stone
just can't get a break...
The acclaimed
Platoon
and
Natural Born Killers
director pleaded no contest to possesion of marijuana while driving as he pulled over a police checkpoint last July 29th. He was fined $100.
Haley Joel Osment Takes over as Indiana Jones

After
Harrison Ford
finally retires the Hat and Whip, it is reported that
Sixth Sense
acting prodigy
Haley Joel Osment
will take over as the young Indy. He is 17 years old now and is at the right age to be the young swashbuckling archaeologist.
I don't know what's going on with
George Lucas
, but his prequel asphyxiation
has got to stop
!!!
Julia Roberts To Quit Movies?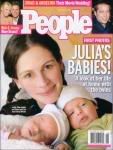 Aside from some voice work for animated features like
Charlotte's Web
, we don't see much of
Julia Roberts
lately. Well yes, that's because she's a full fledged mom now, but reports say she's gonna be doing it full time and won't be looking back.
If this is true, we will be losing one of the best Hollywood actresses out there.
Julia Roberts
isn't just a pretty face, she's got real talent, which is rare among todays anorexic, botox-pumped bevy of so-called movie stars.
Ok I'm out...
Props to
KFCCinema
and the
MovieBlog
.