John Woo To Direct New "He-Man" Movie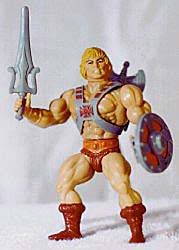 I loved this show when I was a kid. I had the action figure shown above (which met it's tragic fate in the paws of our pet dauchshund after a few months) I saw all the episodes, even the crossover show with "
She-Ra
".
We all know
John Woo
as that dude who directed the intensely action packed Hong Kong classic
Hard Boiled
and tremendously cheesy
Mission Impossible 2
.
I wanted to create another "who would make the best He-Man" post, but I couldn't come up with the right actors. Only
Brad Pitt
(only with his Troy phisyque) and
Vin Diesel
(?) wearing a yelloy page boy wig come to mind (eeecccchhh!)(shudder). Then
this guy
came to mind. Please No!!!
Goodness knows how this is gonna turn out!
Click here for the newslink