X-Men Pics Online, Rocky 6 Pics, too.

We know
X Men 3
has been getting a lot of backlash from the production decisions being made by the studio. From the departure of
Brian Singer
and the hiring of
Brett Rattner
(
Rush Hour
)as the movie's director to the axing of my favorite X-men character,
Nightcrawler
(
Alan Cumming
), the decisions being made by the studio just keps the fans angry and the general populace more and more disinterested.
This just in a few hours ago. Pictures of
Beast
on
X Men 3
surfaced on
USA Today
before they released the teaser trailer.
Frasier
's
Kelsey Grammer
will play the blue skinned intellectual monster. How cool is that? There are a few pictures of
Angel
in the mix too.
I'm still not convinced though, It will take a monumental effort in the director's side to gain back the fans' trust with the new movie.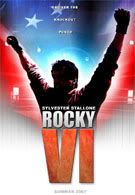 Oh if any of you still Remember
Rocky
, here is a
shot
from the currently filming
Rocky 6
.
Sly Stallone
must really be needing to bring back his glory days, I heard he's making a
Rambo
sequel too. Oh boy, what people would do for the green...
Click
here
for more aimages.
Props to The
MovieBlog
Props to
CinemaBlend
.