Soderbergh To Make 'Che' Movie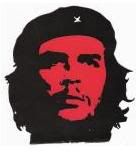 Exciting news.
A film based on the last days of Argentinian revolutionary and romantic icon
Ernesto 'Che' Guevara
will be made by the great
Steven Soderbergh
(Traffic, Erin Brockovich, Oceans 11)
. The film will be titled
Guerilla
. It is said to be based on recently declassified CIA files on the medical doctor-turned-revolutionary leader.

Wow, this is wonderful. Never has there been any real movie that has given justice to the life of the revolutionary Che (
coughEvitacough
)
Walter Salles' The Motorcycle Diaries
dealt more on Che's adventurous youth and the formation of his ideals while traveling the Hispanic countryside but never touched on his real revolutionary days, but however, is still a great film in itself.

Equally exciting is the casting of Che. It is said thet
Benicio Del Toro
will play Che. I personally could not think of anyone better. With BT's great physical resemblance and his amazingly wide acting range (
check him out in Traffic
), not to mantion his working experience with Soderbergh himself, I could hardly think of anything going wrong with this one.
Props to
Twitch