Movie Preview: "The Last Mimzy"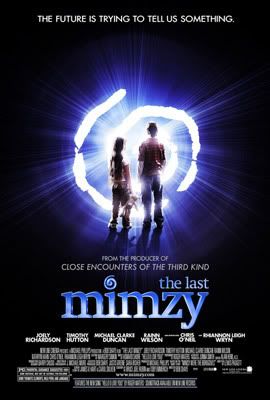 I have been looking through the trailers in
apple.com
and I have come across the trailer to
The Last Mimzy
. It's a story about a couple of kids who are apparently geniuses and are getting information from the future on how to conduct a very significant event.
The trailer doesn't reveal much. But that's what a trailer is supposed to do. Give out enough to get us interested without spoiling the movie. And boy, did this get my attention.
I have clicked on almost all the links in the
apple.com/trailers
page, but this trailer really got me excited.
For all I know the movie could be a boring load of crap. But from what ZI see in the trailer. This could be a potential revival of the old "80's Speilberg type childrens' sci fi genre. There definitely was an
E. T./Close Encounters of The Third kind/ Goonies
feel to it.
Here's hoping to that.
Click
here
to go directly to
The Last Mimzy
trailer page.
Props to
Apple.com