Movie Review: Forgetting Sarah Marshall (2008)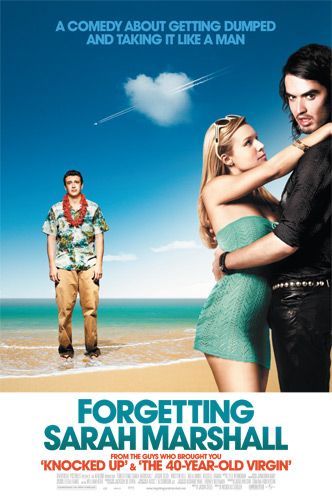 Pretty much everything that
Judd Apatow
touches nowadays turns into gold. Judd and his crew are really busy nowadays cranking hit after hit. After
40 Year Old Virgin
,
Superbad
and
Knocked Up
, and the upcoming
Pineapple Express
, it seems like there's no stopping this buncho of used-to-be hollywood misfits. Just a couple of years ago Judd and his team were considered box-office poison for putting out brilliant, but unpopular shows like
Freaks and Geeks
(
also with Jason Segel, Seth Rogen and James Franco
) and
Undeclared
. Now they have practically re-inverted the R rated comedy/stoner genre and have introduced us to rauchy comedies with heart.
Forgetting Sarah Marshall
is about Peter Bretter(
Jason Segel
), a dead end musician with a steady paycheck from scoring TV shows who happens to be the boyfriend of rising TV star Sarah Marshall(
Kristen Bell
). one morning Sarah confronts Peter to break up with him (
in one of the funniest, if not, most unsettling film breakups ever
). Not able to cope with the trauma of being single after being with Sarah, peter decidesd to go on vacation in Hawaii and checks in hotel where, in a freak coincidence, Sarah and her new boyfriend Aldus Snow (
Russel Brand
) are staying. The hote's receptionist Rachel (
Mila Kunis
), haveing had a recent breakup of her own, sympathyzes with Peter and goes out of her way to make him feel better during his stay, some feelings develop and a lot of hilarity ensues.
FSM
is a script that Jason Segel, the movies lead actually wrote himself. It turns out a lot of the events within the movie, especially the one where Sarah breaks up with him while he was naked from just getting out of the shower, were derived from his own experiences with breaking up with his old girlfriend. A lot of the comedy in
FSM
is improvised, and to good effect. this is probably the reason wy Apatow produced stuff is hilarious, because he gets good funny talent and lets them do their thing. Russell Brand is a brilliant discovery. Apparently this comedian is very popular in Britain and has developed quite a following in global audiences after his take in
FSM
. Director
Nick Stoller
obviously avoided for this comedy to be 'formula', as a lot of romantic comedies become. the comedy is low key but effective and the reactions are genuine. Although this may not be the funniest of the Apatownians, it ranks as one of the most realistic.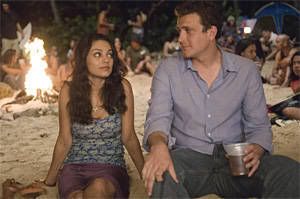 Rocketboy's Rating: (***)4 out of 5 stars