Two Awesome Trailers!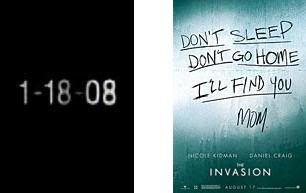 Hello There, how's your
Transformers
hangover? Well, we've got a good summer season so far, few dissapointments in the past weeks and some promising stuff going on in the near future. This is a good time to market the movies of the next few months post-summer. Boy did I come across some really awesome stuff!
I was supposed to post this last week but was afraid that the lik would die before anyone had the chance to see it. You see, somebody with a videocamera taped the trailer from insiode a theater in the US and leaked it into the internet
Paramount recently released a teaser to a movie produced by Bad Robot productions, the production outfit of Lost creator and MI3 director JJ Abrams, which doesn't have a title yet. In it you see a bunch of twentysomethings in what looks like a farewell party for one of their friends. The shots are like as if it was taken by one of the partygoers with a video camera, you know, Blair Witch style. Then a big growl is heard outside the building...
Then you have to see it for yourself. It is freaking awesome.
For the higher resolution Quicktime trailer Click now. Click now.
CLICK NOW!
Observing the theme of post apocalyptic madness, I have come across another trailer for a Joel Silver production staring Nicole Kidman and Daniel Craig called Invasion. It has a plot akin to a cross between 28 Days later and Invasion of The Body Snatchers. The trailer is creepy and pretty slick at the same time.
For the Quicktime trailer,
Click HERE!