X Files 2...Hopefully.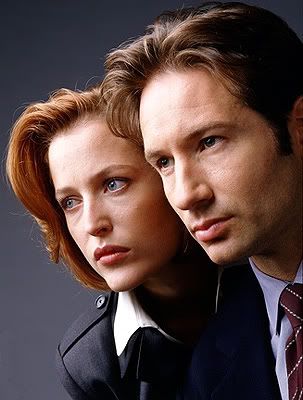 I was one of the kids who was really addicted to
The X Files
to the point that I studied the whole alien/abduction scene and read and bought books about aliens. What X Files has taught me is that, you dont have to be a "believer" to enjoy the mythos. I personally took everything with a grain of salt, kind of like what Scully is to Mulder. It makes things more interesting, I think. If you "want to believe", all things no matter how absurd, become possibilities. I didn't like that. I wanted overwhelming evidence, which I got, sometimes, which is scary.
The "X-Files" film sequel is heating up. Co-star David Duchovny indicated Saturday during the Television Critics Association press tour that the film, which has been the subject of speculation for the past few years, is one step closer to becoming a reality. "I'm supposed to see a script next week," Duchovny said at the Beverly Hilton in Beverly Hills, adding that creator Chris Carter and Frank Spotnitz wrote the screenplay and that Carter is set to direct.

Duchovny also reiterated past remarks that he and "X-Files" co-star Gillian Anderson "are on board" the follow-up to the 1998 film and the series that ran on Fox from 1993 to 2002.
I am looking forward to this, honestly because it will tie up a lot of loose ends that the series left in its finale, which was a big pile of crap. The 2 new X Files Agents Dogget and Reyes were not bad and would rock in the new movie, if ever.
Now, If something could be done with
Millenium
. I know that
Lance Henriksen
has been quoted as being more than willing to get a
Millenium
movie done. It's just a matter of rekindling public interest. After all the 2000 year mark as already passed. I hope that X Files success will regenerate this dead franchise so that people will know how great a show this was.
Props to
themovieblog