My Take on the Writers Strike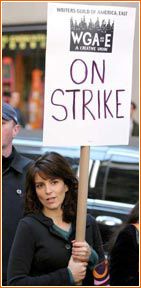 Ok. While I ignore the most pressing news coverage of Rene Saguisag being in the ICU of The Makati Medical Center accross the street, the impeachment petitions in Congress and the announced Pakistani elections, let me focus on the most pressing and most life-critical of all the world issues, the Writers Guild of America Strike!
Oh noes! We's got no shows to watch!!!
Ever since the strike began we all have had to brace ourselves for the impact it will have in our lives in the coming weeks. I for one am affected by it now. Being in the Philippines, US shows dont get around until about 6 months after they are previously premiered in the US, for MOST it takes longer. I happen to be one of the many who watch these shows in the internet on streaming video. And the strike just gets me irked that I wont be watching my shows in a couple of weeks after all the pre-strike scripts have been shot and cut.
My Take? GIVE THE WRITERS WHAT THEY WANT!!!!!
Isn't it about time that the studios admit that they are making silos of cash while the writers dont get any royalties for digital content like online earnings and DVD royalties. Just give them a bigger piece of the pie! Your slice already looks like pacman!
JUST GIVE THEM WHAT THEY WANT!